I got China Glaze Millenium a few days ago and wanted to compare it to two other China Glaze silvers (Platinum Silver and Devotion) I own. Millenium is an AWESOME silver. It's not streaky at all and with a ridgefilling basecoat underneath it gets realy reflective!
Platinum Silver has very obvious brush strokes and is all in all harder to work with (I always get bubbles and clumps and general unevenness). Plus, even at two coats it's not realy opaque, I'd probably do 3-4 coats to feel realy comfortable.
Devotion is also showing strokes, but not AS bad, as PS. It's also more purple-toned, than the other two, not realy a pure silver. Two coats is good, 3 better, but only if you are picky.
Millenium is AWESOME!!! Sorry. It does not show any significant brush strokes, it's a cool, pure silver and even at one coat it's pretty opaque. It's very good for stamping, too!
--
Vor ein paar Tagen habe ich China Glaze Millenium bekommen und wollte das Schätzchen gleich mal mit den zwei anderen metallisch-silbernen Lacken (Platinum Silver und Devotion) von China Glaze in meiner Sammlung vergleichen. Millenium ist ein absolut FANTASTISCHES Silber. Es sind keine/kaum Pinselstriche zu sehen und mit einem ausgleichenden Basecoat drunter hat man eine wunderbar reflektierende Oberfläche.
Platinum Silver zeigt sehr deutlich die Pinselstriche und ist generell schwierig im Auftrag (Ich habe ständig Blasen oder Lack-Blops und es wird auch nicht wirklich gleichmässig). Selbst nach zwei Schichten ist er immernoch nicht so richtig deckend. Ich würde wahrscheinlich 3-4 Schichten auftragen.
Bei Devotion sieht man ebenfalls Pinselstriche, wenn auch nicht ganz so schlimm, wie bei PS. Es ist auch, verglichen mit den beiden anderen etwas lila-stichig, also kein reines Silber. Zwei Schichten reichen, drei sind aber besser, wenn man es wirklich eben haben möchte.
Millenium ist GENIAL! Sorry. Es wird wirklich schön eben und ist ein kühles, reines Silber. Selbst bei einer Schicht deckt dieser Lack gut und eignet sich damit auch hervorragend für Nagelstamping.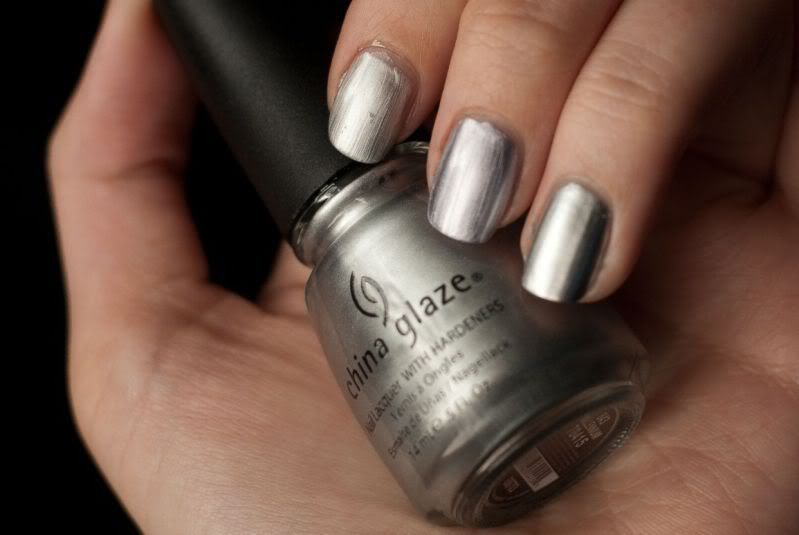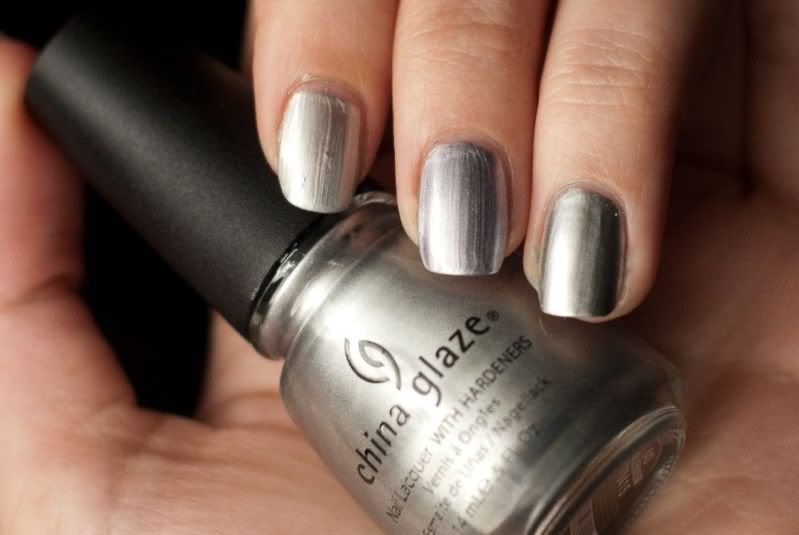 China Glaze 77051 Platinum Silver on pointer, 80213 Devotion on middle and 70415 Millenium on ringfinger, all two coats.
--
China Glaze 77051 Platinum Silver auf dem Zeige-, 80213 Devotion auf Mittel- und 70415 Millenium auf dem Ringfinger, alles zwei Schichten.