I love matte topcoats. Seriously! Especially on glittery or glass-fleck polishes. It gives a realy cool effect. So, naturally, I have a bunch of them. 4 to be exact. Matt Topcoat by Essence, Catrice Nail Experts Matt Topcoat (those two are identical! Made by the same manufacturer, wear the same, look the same ... I used the Essence for the test), Manhattan Pro Mat Top Coat and of course Essie Matte About You.
--
Ich liebe Matt Topcats. Wirklich! Besonders mit Glitter oder Glass-Fleck Lacken erzeugen sie einfach einen sehr coolen Effekt. Es ist also nicht überraschend, dass ich eine ganze Horde besitze, 4 Stück um genau zu sein. Den Essence Matt Topcoat, den Catrice Nail Experts Matt Topcoat (diese beiden sind identisch! Sie werden vom selben Hersteller gemacht, tragen sich genau gleich, sehen gleich aus ... Ich habe für diesen Test den Essence Topcoat genommen), Manhattan Pro Mat Top Coat und natürlich Essie Matte About You.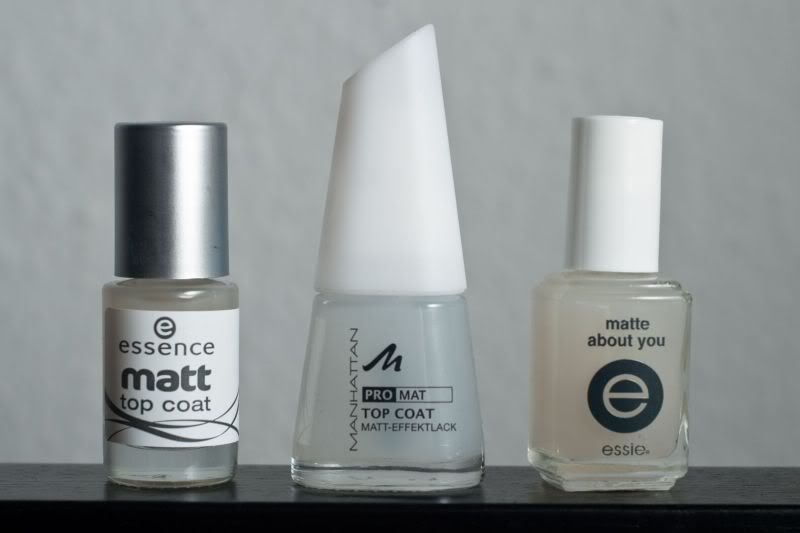 The prices vary immensely between brands! Essence is 1,79€ (about $2,55) for 8ml, Catrice 2,50€ ($3,55) for 12ml, Manhattan 2,50€ for 11ml and Essie 13,50€ (prices in the US vary, I've seen it around $6) for 15ml. Is there such a big diffrence in performance, that it justifies the price diffrence?
Let's look at our contestants. Essence (and with that Catrice, too) and Essie are both a milky off-white colour, while the Manhattan is a little more translucent and pretty much pure white.
The brushes on the Essence, Catrice and Essie are all the usuall round ones, no problems in application with either, though if you want to get nitpicky, the Essie brush is the best of those three. The Manhattan brush is wider and flat and I find the best brush of all the contestants. Though, brushes are not that important with topcoats, I find, as long as they WORK!
As my testpolish I applied Catrice Purplized to four nails.
--
Die Preise unterscheiden sich gewaltig! Essence kostet 1,79€ für 8ml, Catrice 2,50€ für 12ml, Manhattan 2,50€ für 11ml und Essie 13,50€ bei Douglas für 15ml. Gibt es wirklich so einen riesen Unterschied in der Qualität, dass sich dieser Unterschied im Preis rechtfertigt?
Lasst uns einen Blick auf die Bewerber werfen: Essence (und so auch der Catrice) und Essie sind beide milchig und creme-farben, während der Manhattan mehr durchscheinend und ganz weiss ist. Die Pinselchen bei Essence, Catrice und Essie sind alle klassisch rund gebunden und funktionieren gut. Wenn ich Haare spalten wollte würde ich sagen, der Essie Pinsel ist der Beste von diesen dreien. Der Manhattan Pinsel ist flach und etwas breiter und funktioniert meines Erachtens von allen vieren am besten, allerdings sind Pinsel bei Überlacken jetzt auch nicht SO wichtig. Hauptsache sie funktionieren.
Als Testlack habe ich Catrice Purplized genommen.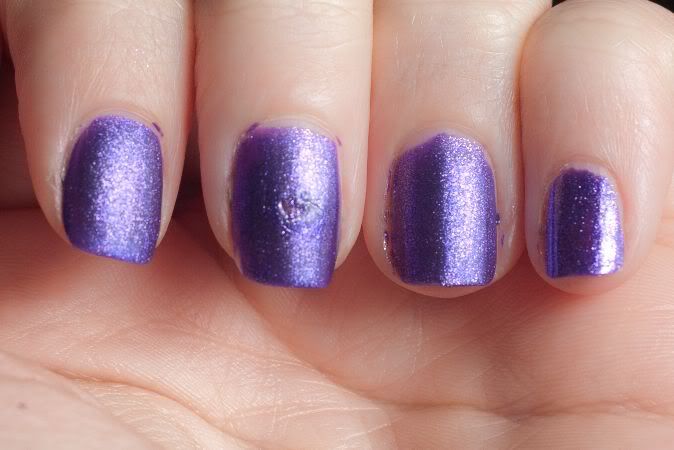 In order of appearance: Essence, Manhattan, Essie, without topcoat.
The Essence goes on very nice and even and leaves the Nail very matte. It does not change the colour too terribly much. It dries the polish underneath quicker, which is a plus!
On me, it stayed reasonably matt for about two days, after that it chipped and was very satin looking.
The Manhattan has a good application, but is more satin looking, than the rest. It changes the colour the least, but it does NOT help to dry the polish, that is, why that nail has a good dent in it.
It stayed on well, but it was pretty shiny by the end of the first day. Chipping was at a minimum.
Essie is the mattest (if that is even a word) of the bunch and it realy dried the polish underneath lightening fast. It lightened the colour a good bit, sadly and took away more spakle in the polish, than the others. But, it stayed matt and pretty much intact for a good while. Matte About You tends to get white spots after a while though, which I do not have any idea how to avoid.
So, which one is THE BEST? Well, quality wise, Essie all the way! Here in germany, it is far to expensive, though. If you are looking for a cheap, but good alternative, it's either Catrice (which is the cheapest, when it comes down to $ per ml) or Essence.
--
In der Reihenfolge: Essence, Manhattan, Essie, ohne Topcoat.
Der Essence Topcoat lässt sich gut auftragen und mattiert die Nägel wirklich hervorragend. Es verändert die Farbe des Lackes darunter nur minimal und hilft den Farblack schneller zu trocknen.
Bei mir bleibt der Topcoat relativ matt für ca. 2 Tage, danach splittert er doch sehr und sieht eher satiniert aus.
Der Manhattan Lack hat, dank dem Pinsel den besten Auftrag, ist aber nicht richtig matt, eher satiniert. Es verändert die Farbe des darunterliegenden Lackes am wenigsten von den Kandidaten, aber beim Trocknen hilft er keinen Deut, weshalb ich auf dem Foto in diesem Nagel auch eine mächtige Delle habe.
Der Lack hält ganz gut, wurde aber sehr schnell wieder ziemlich glänzend.
Essie Matte About You ist der matteste von allen und trocknet den Lack darunter wirklich blitzschnell. Die Farbe des Lackes darunter wird allerdings ein gutes bisschen aufgehellt und es beeinträchtigt den Schimmer und Glitzer sehr. Dieser Lack blieb am längsten matt und splitterfrei! Nach einer Weile hat Matte About You die schlechte Angewohnheit weisse Klümpchen zu bilden, die dann auch auf dem Nagel zu sehen sind. Bisher habe ich noch nicht rausgefunden, wie man das verhindern kann.
Welcher ist also der BESTE Matt Top Coat? Schwer zu sagen. Der qualitativ beste ist Essie, deffinitiv! Allerdings ist der deutsche Preis einfach zu hoch. Wer es sich leisten kann, oder ohnehin aus Amerkia Lacke beziehen kann, sollte ihn sich allerdings doch anschauen. Für alle anderen Empfehle ich den Catrice Matt Topcoat, der ist vom Preis Leistungs Verhältnis der beste.