Sooo, I am done photographing all my nail wheels with my current polishes. I'll try to do one colourfamily per day. These posts are references, please feel free to request reviews, comparisons and swatches of any of the colours shown.
I always try my best to make the pictures as colour acurate as possible on my calibrated monitor, but keep in mind, that diffrent monitors will display colours diffrently. I can not guarantee, that your monitor will show you the colours as I see them. I am sorry for that, but there is nothing I can do.
Up for today, one of my favorite colours for nail polish: GREEN.
--
Sooo, ich habe endlich alle meine Nail Wheels mit meinen aktuellen Lacken fotografiert. Ich werde versuchen jeden Tag eine Farbfamilie hochzuladen. Diese Posts sind als Referenz zu verstehen, ihr könnt gerne Reviews, Vergleiche und Swatches von allen gezeigten Farben anfordern.
Ich sorge immer dafür, dass die Farben auf meinem kalibrierten Monitor so akurat wie möglich erscheinen, aber ihr müsst euch darüber im Klaren sein, dass verschiedene Monitore Farben unterschiedlich darstellen. Ich kann euch keine Garantie geben, dass euer Monitor die Farben genau so anzeigt, wie ich sie hier sehe. Das tut mir wirklich leid, aber ich kann nicht mehr machen, als eben die Bilder so gut wie möglich aufzunehmen und zu bearbeiten.
Heute eine meiner Lieblingsfarben, wenn es um Nagellack geht: GRÜN.
1: ChG L8R G8R
2: ChG Gussied up Green
3: ChG Watermelon Rind
4: ChG Kiwi Cool-Ada
5: ChG Starboard
6: ChG Emerald Sparkle
7: ChG Re-Fresh Mint
8: Essie Going Incognito
9: Essie Sew Psyched
10: Anny Summer Love
11: Anny Green Meets Mint
12: Anny Wicked
13: Rival De Loup 52
14: Manhattan 87 D
15: Basic 249
16: Basic 309
17: Kron Froschkönig
18: P2 Copacabana
1: Catrice Sold Out Forever
2: Catrice Easy Peasy Lemon Squeezy
3: Catrice I Sea You
4: Catrice Run Forest Run Dark
5: Catrice Run Forest Run Light
6: P2 Trouble 2011
7: P2 Groovy 2011
8: P2 Jetset 2011
9: P2 Artful 2010
10: P2 Trouble 2010
11: P2 Dating Time 2010
12: P2 Dangerous 2010
13: P2 Shockful
14: Orly Viridian Vinyl
15: Orly Green with Envy
16: Orly Mint Mojito
17: Orly It's Not Rocket Science
18: Green Jelly Franken
1: Orly Here Comes Trouble
2: Orly Walk Down The Isle
3: Orly Ancient Jade
4: Orly Wandering Wine
5: Orly Green Apple
6: Essence Lime up!
7: Essence You belong to me
8: Essence Trust in Fashion
9: Essence You've got the art
10: Essence Replay
11: Essence Bella
12: Essence Trendsetter
13: Essence Into The Jungle Franken
14: Essence I'm a Berliner
15: Artdeco Quick Dry 88
16: Artdeco Creamic 120
17: Flormar N007
18: Rimmel Green with Envy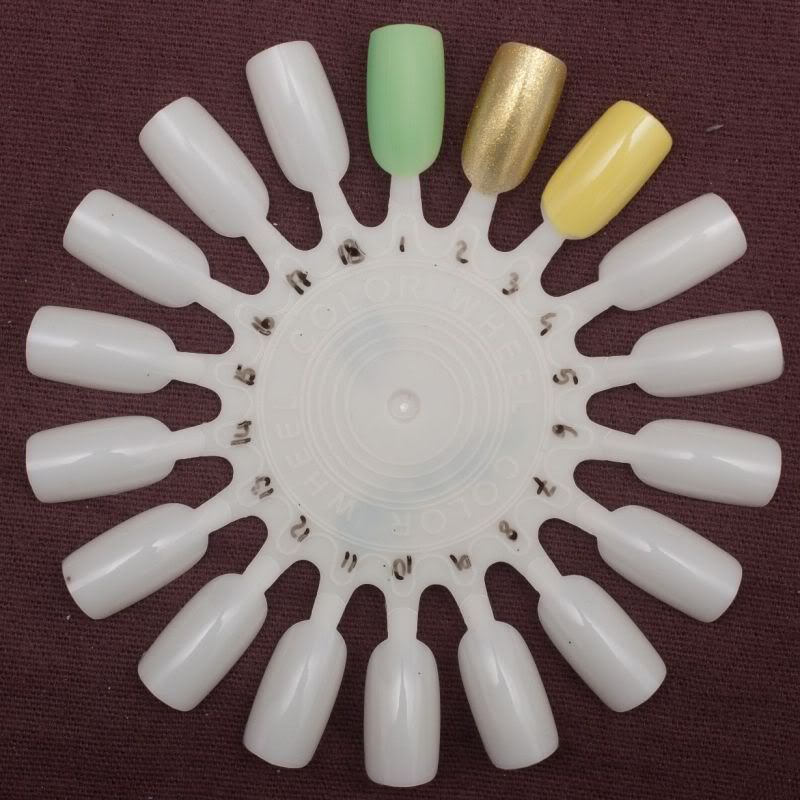 1: OPI Gargantuan Green Grape Matte
2: OPI Simply Smash-ing
3: Anny Fancy