Third installment of my collection-posts. These posts are references, please feel free to request reviews, comparisons and swatches of any of the colours shown.
I always try my best to make the pictures as colour acurate as possible on my calibrated monitor, but keep in mind, that diffrent monitors will display colours diffrently. I can not guarantee, that your monitor will show you the colours as I see them. I am sorry for that, but there is nothing I can do.
Today: Purples
--
Hier ist die dritte Ausgabe meiner Sammlungs-posts. Diese Posts sind als Referenz zu verstehen, ihr könnt gerne Reviews, Vergleiche und Swatches von allen gezeigten Farben anfordern.
Ich sorge immer dafür, dass die Farben auf meinem kalibrierten Monitor so akurat wie möglich erscheinen, aber ihr müsst euch darüber im Klaren sein, dass verschiedene Monitore Farben unterschiedlich darstellen. Ich kann euch keine Garantie geben, dass euer Monitor die Farben genau so anzeigt, wie ich sie hier sehe. Das tut mir wirklich leid, aber ich kann nicht mehr machen, als eben die Bilder so gut wie möglich aufzunehmen und zu bearbeiten.
Für Heute: Lila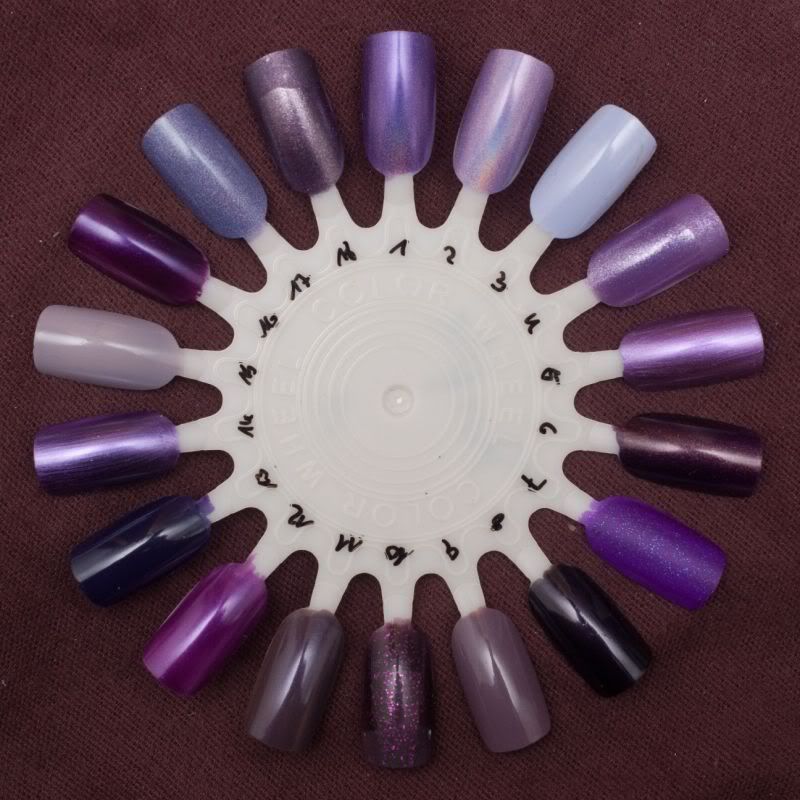 1: ChG LOL
2: ChG IDK
3: ChG Agent Lavender
4: ChG Grape Juice with matte tip
5: ChG Harmony
6: ChG Side Saddle
7: ChG Flying Dragon
8: ChG Midnight Ride
9: ChG Below Deck
10 ChG Mummy May I with matte tip
11: Alessandro Hypnotic
12: Alessandro 273
13: Alessandro 271
14: Kron Iris
15: Manhattan 67C
16: Catrice Poison Me, Poison You
17: Catrice Dirty Berry
18: Catrice Purplized with matte tip
1: Catrice Forgett me not with matte tip
2: Catrice Purposely Purple
3: Catrice Lavenderlicious
4: Catrice Lucky in Lilac
5: Catrice Plum Play with me
6: P2 Poetic 2011
7: P2 Elegant 2010
8: P2 Chic
9: Orly Purple pleather
10: Orly Wild Wisteria
11: Essence (don't know the name, sorry)
12: Essence Dress For A Moment
13: Essence Go Wild
14: Essence No More Drama
15: Essence Rock it, Baby
16: Essence Hypnotic Poison
17: Essence Pruple Cherry
18: Essence Found my Love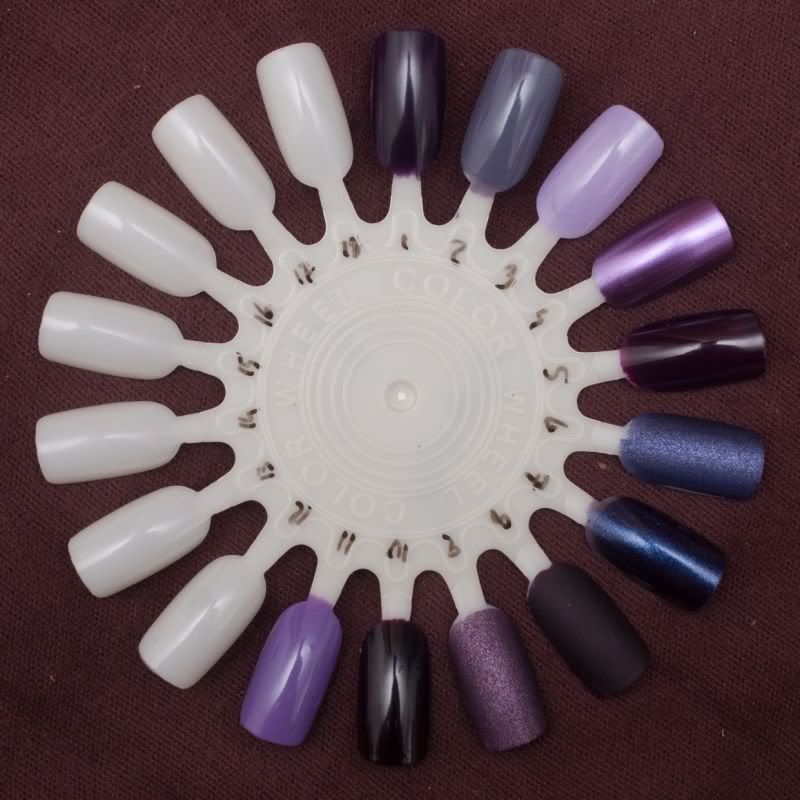 1: Essence Thelma
2: Artdeco Ceramic 126
3: Fairwind Violet Orchid
4: SH Royal Purple Chrome
5: Basic Purple
6: OPI Ink! Suede
7: OPI INK!
8: OPI Lincoln Park After Dark Matte
9: OPI Lincoln Park After Dark Suede
10: OPI Lincoln Park After Dark
11: OPI A Grape Fit